Daniel Craig is back, as James Bond in a truly gripping new story 'Skyfall' where Bond's loyalty to M is tested when her past comes back to haunt her. Whilst MI6 comes under attack from unknown and dangerous forces, 007 must track down and destroy the bad guy, no matter how personal the cost.
Hey Everyone
Welcome to another Dr.Film review. In today's review I will be looking at the latest James Bond adventure, Skyfall written by John Logan, Directed by Sam Mendes and stars Daniel Craig as 007, Dame Judi Dench as M and Javier Bardem as Silva.
This movie is truly amazing, there is no doubt in my mind that tells me that Skyfall is not a bad film. I'm no James Bond fan, but from what I gathered from the Internet and the publicity stuff, it seemed that they intended to step things up a noch in order to celebrate 50 years of Bond, and I think they pulled off that task brilliantly.
This film came out in Britain on the 26th of October 2012 and arrived in America on the 9th of November.
SPOILER ALERT
: Again like with my review of 'The Hobbit' I feel I don't need to post a spoiler warning out for Skyfall. Because I'm sure pretty much everyone has seen it. It's one of the most successful films made in Britain ever, the DVD is out, It's on demand. Those who wanted to see it have seen it by now. But just in case you haven't please don't read this review until you've seen the film, it's not worth spoiling for yourself.
I really think that 'Skyfall' is brilliant. It is such a treat for all of the 007 fans, again I'm not a James Bond fan so I can't really go into the depths of what fans deserve and what they don't, But what I do know is that Skyfall is a fantastic thriller which entertain as well as amaze the viewer. It certainly in my top 10 films I've seen.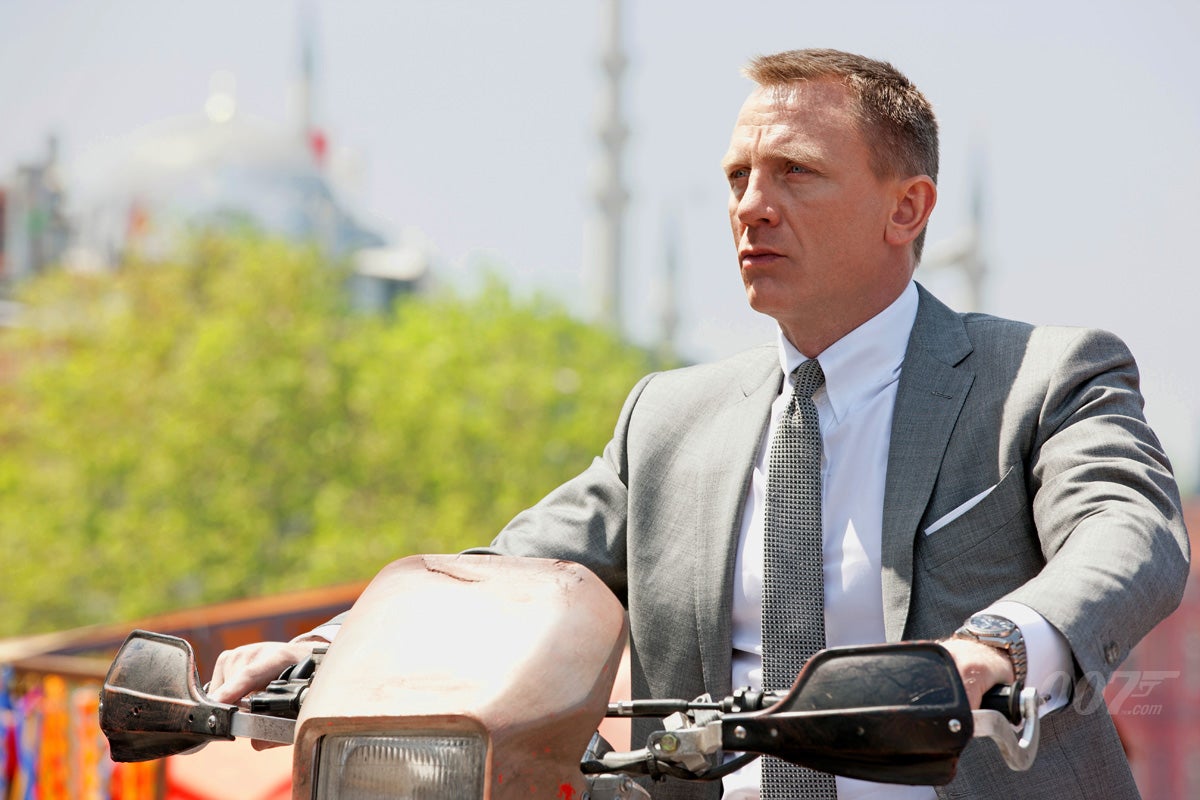 Daniel Craig is back as Bond, a really great performance from Daniel Craig in this film. He played the character dead straight and proper and apparent. which is what you should do impersonating such an iconic role such as James Bond.
Daniel Craig is my favourite Bond, he's gritter than all the previous Bonds, He brings new levels of strain to the character, he makes me believe he is a spy or secret agent, he's a great action man and above all he's the Bond of my generation, that's why I like him so much.
Dame Judi Dench back as M. The stern boss, the woman who gives Bond his missions. I thought she brought brilliant new aspects to her personae of M, I haven't seen Casino Royale or Quantum of Solice so I don't have a clear understanding to her character, I only gained the background of her M and the personal messages from Skyfall. I have to say she is a fantastic M. She really did a fantastic job in Skyfall. Judi Dench is an actress I think is wonderful anyway, naturally she's going to give a great performance.
Javier Bardem from 'No Country for Old Men' playing a Bond villain, He was brilliant to. His character of Silva is an echo terrorist who has an old score to settle with Judi Dench's M. He was very good at showing his anger and frustration, and also showing his charm and lack of good spirit, his character of Silva is a very cold character and Bardem has the look of someone who could be evil, he has a dodgy look in his eyes which makes his performance ever more convincing.
The rest of cast were splendid, people like Ben Wishaw (Q),
Ralph Fiennes (Gareth Mallory), Naomi Harris (Eve Moneypenny) and
Bérénice Marlohe (
Severine) all really strong performances which complement each other.
The effects and action sequences I loved to, all the punch ups, and gun fights, and things blowing up, the train crash I thought was brilliantly done. My favourite effect is when the huge house blew up and we got to see this massive authentic explosion coming out in a vibrant and excessive way. I loved that effect, blew me away.
The Directed Sam Mendes clearly did a fantastic job as director,I'm not familiar with him as a director but should he go one to direct more action movies like Skyfall, I'll be there. great direction on this film.
Adele also did the theme song, a really great song, she's a fantastic artists doing her bit for the Bond 50th anniversary celebrations.
And what a love about 'Skyfall' is it doesn't try to be all proper and traditional, It tries to be different, and bigger and better. And with the ending absence to Judi Dench and the coming in of Ralph Fiennes as the new M. I sense a great change for the James Bond films today.
Though there is a strong personal message and concentration in the plot of Skyfall, the effects and the acting is fantastic, grippingly tense and such a treat for all of the Bond fans.
I give Skyfall 9/10
1 Gold Star to Daniel Craig
1 Gold Star to Judi Dench
1 Gold Star to Javier Bardem
1 Platinum Star to Sam Mendes
NEXT WEEK: For all of next week, I will be reviewing all eight Harry Potter movies, from Philosopher's Stone - Deathly Hallows.
I will start my Harry Potter reviews on Monday the 1st of July 2013