Broken City -Written by Brian Tucker and Directed by Allen Highes, A story set in a city rife with injustice, ex-cop Billy Taggart (Mark Wahlberg) seeks vengeance against the most powerful figure: Mayor Nicholas Hostetler (Russell Crowe), after being double-crossed and then framed.
Hello Film lovers
Welcome to a new Dr Film review, in today's review I have decided to look at 'Broken City' an action thriller based on political activism, in America today.
The film was released in the US on the 18th of January 2013, and came to the UK on the 1st of March 2013. It runs for approximately 109 minutes in total, so it's not a very long film.
The Story is set in New York City, more ore less around the time we are in now so 2010/12 that sort of time. Detective Inspector Bill Taggart finds himself up against a court, being charged for murder for killing a thug and rapist Mikey Tavarez.
However important evidence vanishes from the case, and Billy is declared not-guilty by the judge. But the Mayor of the city, Nicholas Hostetler and the Chief of Police Carl Fairbanks, decide between them it would be in Bill's best interests, if he leaves the police department.
Seven years later on it's the year 2012 or near abouts, Billy is a private detective that lives with his girlfriend Natalie Barrow, who is an aspirant actress and the sister of Mikey's victim. His secretary Katy Bradshaw (Alona Tal) is trying to collect a part of the debts in an attempt to try and rescue their business.
It's the week of the general elections, the competition between Mayor Hostetler and his opponent is very intense. One afternoon Hostetler summons Billy to his office and offers him a reward of 50,000 dollars to investigate and spy on his wife Cathleen Hostetler (Catherine Zeta Jones) that he believes is having a love affair.
Billy is suspicious at first, but then he discovers that Cathleen has been meeting up with a man called Paul Andrews, who is the coordinator of the campaign of Jack Valliant - Nick Hostetler's opponent. Billy manages to sneak past the two of them, He takes some photos of the two of them and gives them to the Mayor. Though when Paul is found dead on the street one night, Billy finds that he had been double-crossed by the mayor and he decides to investigate matters further.
As a concept, this film is certainly one that grabs my interests. It has an outlined political messages besides all the action, extreme car chases and gun fights.
Mark Wahlberg is absolutely fantastic in this film, really controlled. Good at playing a tough guy, isn't afraid to do punch ups. Overall fantastic performance from him.
Russel Crowe, (besides Catherine Zeta Jones) the only well experienced actor in the whole of the cast, really gritty and nasty and vile character that he played. What I love about his character and the way he played was that his violence was not physical. it's how he manipulates other people to do the dirty work for him, makes his character very cold, with a dark personality. It's abit like Bob Gunton's Warden Norton in 'The Shawshank Redemption' there is some relation there, between these two characters. So really loved Russell Crowe, probably the best performance in the film for me.
Catherine Zeta Jones wasn't so bad. but that was pretty much down to the fact, that she didn't really do a lot.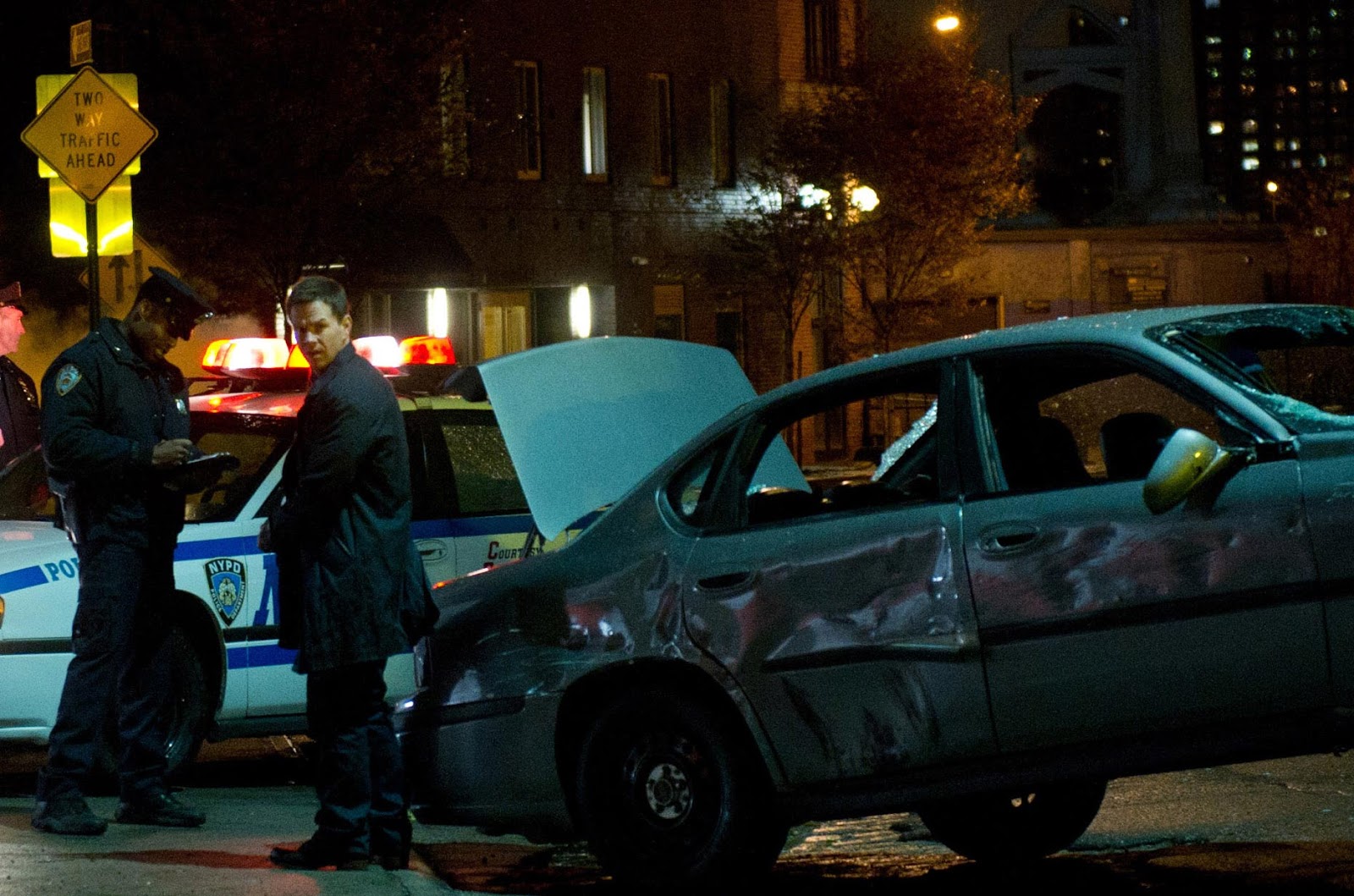 Some of the action was a bit over the top in places, car chases and punch ups were very much over the top and unneccacry to what was happening in the story, it didn't really drive the story forward, it just delayed more exciting things for me. Those fights were just in it, for the sake of being in it.
This film also cleverly tests people trust in people, and who you are meant to rely upon and who you are not. I really liked that aspect of the film, gives the viewer a message to learn from it. It also gives one a sense of right and wrong which is also very good.
Overall really pleased and impressed with 'Broken City'.
Some of the action I thought could of been toned down, but overall it was a very good film.
I'll give this film a 7/10
1 Gold Star to Russell Crowe
Thank you for reading this review
NEXT TIME : My next review shall be a Quentin Tarantino classic 'Django Unchained' I will post that review on Saturday the 13th of July 2013.