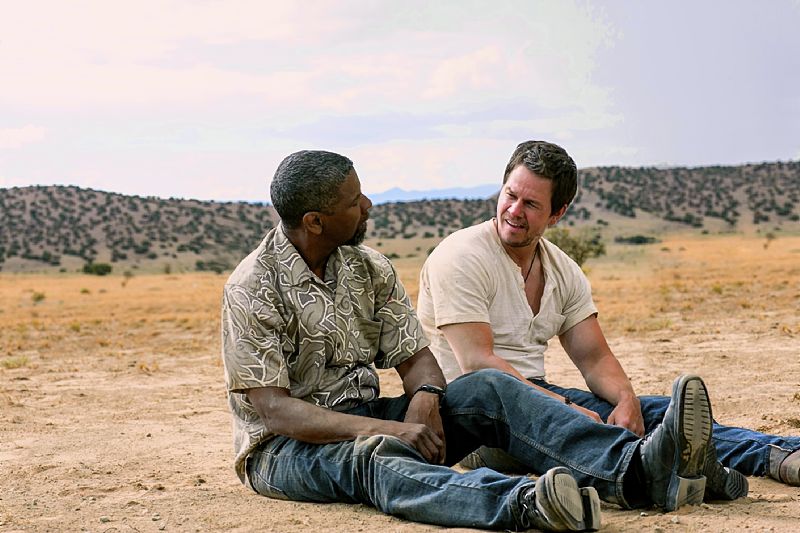 2 Guns : A DEA agent and a Naval intelligence officer - both undercover, have to work as a pair in an attempt to infiltrate a drug cartel. Whilst on this mission, they learn the secret of their shaky alliance: Neither one of them know, that the other was an undercover agent.
Hey Everyone
Welcome to my next review. Today I'm reviewing 2 Guns, which is an action packed, comedy crime drama. Written by Blake Masters and directed by
Baltasar Kormákur
. It stars Denzel Washington and Mark Wahlberg.
This story is based off a graphic novel which is interesting, It is about two characters, who both have secrets, and they both rob a bank together, and steal 43 million dollars in cash. It is then that they discover that they're both undercover agents, and they both become on the run from these gangsters who are the owners of the money they stole, who try to get it back, and the whole point of this movie, is finding out what happened to the money.
Here's a clip.
From what I picked up very quickly about 2 Gun is, there's lots of snappy dialogue in this, it's very precise and to the point, very similar to the works of a Tarantino movie. The Acting and the script compliment each other, they're almost side by side in a way. For instance Denzel Washington's performance in this is absolutely fantastic, he really elevates this to his full potential. I thought it was really well cast, The plot works really well, It did have me guessing up until the last moments.
I don't have much to say on this film, because you can nautically fault it in anyway. Unless your nit picky, But I genuenlly thought that this film was really good. Though the trailers were not great, The film itself proves to be a melodramatic crime comedy, which plays on it's laughs and it's action.
For instance there's a lot of vandalism and property damage made, which is over exaggerated to the extent where the audience is drawn into the story, with an understanding of this being a cop drama which is also melodramatic.
Another thing which struck me about this film, was the two explosion sequences, There's a scene in the beginning of the film, where the two leads blow up a cafe, then later on there's a bigger explosion at the navel base, those effects were fantastic, they were established very well, they looked impressive and effective.
This film does set off an atmosphere of it's own, when it starts off. It reminded me of a 90's action movie in some ways, like 'Pulp Fiction' 2 Guns defiantly has that mid 90's feel to it. It's as if it's 1997 all over again, which is great because the 90's was probably the best decade of films, ever. I challenge anyone to top it. In the first shot when your introduced to Denzel Washington it goes to prove it's a film which focuses on looking good and sounding good, as it is on having a good plot. It's a buddies movie.
The Script itself, I like it a lot, the dialogue as I said, is very snappy, to the point and precise and very compelling. Which in every sense of the word is a good thing, it just shows that there's a meaning to what the story is about and how the speech and mannerisms of the characters excel that.
The Humour in this is very much what I like to call 'mixed humour' this is when I start to get nit picky. Sometimes the laughs are there, and sometimes they're not, I didn't understand this film to be comedic, To me it wasn't a comedy, very few jokes, I didn't get, maybe it's to do with my understanding of the story, perhaps I misunderstood certain aspects, which intern effected the comedic sides of the story. who knows. As a melodramatic comedy, it didn't do anything for me.
Overall thoughts, Good Script, very well executed, very well acted and in turn make up a decent film.
I wouldn't buy it on DVD, but it was still good to see.
I will say that 2 Guns should be worth - 7/10.
Thank you for reading this review.
NEXT TIME : I will review 'The Lone Ranger' starring
Johnny Depp and
Armie Hammer. I will post that review on Saturday the 24th of August 2013.