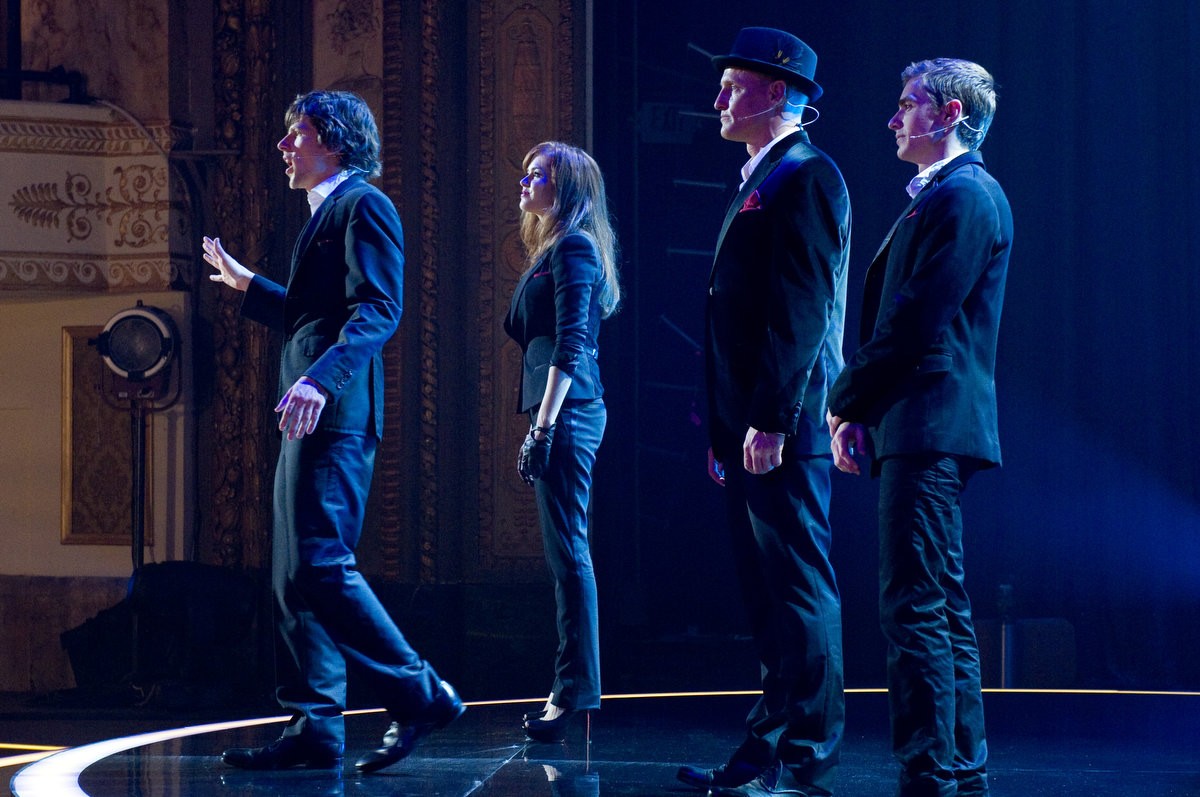 Now You See Me : A Magic Trivia Thriller, of which An FBI agent and an Interpol detective track, are given the job of taking down a team of illusionists who pull off a bank heist during one of their performances and reward their audiences with the money.
Hello Film Fans
Welcome to the newest Dr Film review. Today I will be expressing my thoughts on 'Now You See Me' a film, which had my interests at heart by watching the trailers for it. I thought it looked great, I thought it was very well cast, from what I could gather, the story looked good, and over all I had good expectations for this.
SPOILER ALERT: This review contains spoilers within 'Now You See Me' if you don't want things to be spoiled, I suggest you watch the film, before you read this review.
However, this film has turned out to be a marmite film. What I mean by that is, people either love it or hate it. Upon viewing this film, I think it's one of those films where it starts off really well, and goes from good to bad and then from bad to worse as it progresses.
The film was a bit of a let down, to be quite frank. The story is basically about Four street magicians, each of which are selected; and get a mysterious invitation to an obscure address with secrets inside. A year later, they are the Four Horseman, big time stage illusionists who climax their sold out Las Vegas show with a bank apparently robbed for real.
This puts agents Dylan Rhodes of the FBI and Alma Vargas of Interpol on the case to find out how they did it, and why they did it. However, this bizarre mystery proves to be a lot more difficult to solve even with the insights of the professional illusion exposer, Thaddeus Bradley. What follows is an intense investigation, where nothing is what it seems to be.
I think I should just get the negatives done, and out the way now. I think what didn't really do it for me is the way things were carried out - for instance there is a car chase scene, part way through, adds dramatic tension and emphasis. did the car chase need to be in the film? no, not really. It was most likely shoehorned into the film, to add dramatic tension. It didn't really have me on edge and it slowed the story right down. Not to mention, the actual story doesn't progress through the four main characters, it's mainly carried in by characters Dylan Rhodes and Alma Vargas - two supporting characters, that in turn is bizarre for me. It's like using sand instead of cement, doesn't work quite as well.
That negative being passed out, I did also believe that good actors like Michael Caine and Morgan Freeman, as nice as was to see them. We don't see an awful lot of them. So you have two great actors, which should of got a lot more scene time. though their parts were little, it would of been better to see them and their characters more involved in the story.
The four main characters, Of which the audience is meant to follow throughout the course of the film, and follow up on their story. I didn't like their story, not really. They were all just too cocky and self obsessed for me. They seemed to me, four characters who take pride in showing off, and being ignorant performers who are untouchable, that made me dislike them, and take pleasure in seeing them getting caught and thrown in prison. Sadly they didn't get caught, they got free.
Another negative I found with this film, was the twist. The twist though it came as a great shock to viewers, didn't do anything for me - As it turns out It was Dylan Rhodes all along. He's been pulling the strings, it's all been him - Shock moment! To me, it didn't make a lot of sense. What made matters even more confusing; was the fact that the film, tried to play with the audience that it was his Alma Vargas. The story makes no sense to me, at all.
Coming on the positives now, the things that I liked - The special effects in this film are really good, I thought Isla Fisher in the water tank was good, very well accomplished shot.
The bubble floating scene - again trick of the mind, worked really well, only took the odd CGI effect which we'd seen on many occasion. It very much brings new dimensions to how a film can expand.
Also a good effect was when The illusionists jump of a building and turn into money, that was cool CGI. I thought that was very impressive.
I liked the Egyptian reference, all that back story with 'the eye' was great, gave the story depth and something that the audience could relate to, in terms of history of magic is concerned.
Some of the performances from certain actors were good, As I said Morgan Freeman and Michael Caine, they did good with what they had. Professional performance.
I didn't have much of a problem with the dialogue, I thought the story was good as a storyline - It's just that the development could of been better.
It a nutshell, this isn't the best film I've seen but it is far from the worst.
I'll give it a 5/10.
Thank You for reading this review.
NEXT TIME: I will review Seth Rogan comedy 'Knocked Up' - I will post that review on Friday the 9th of August 2013.