Despicable Me - When a criminal mastermind villain, constructs a plan to steal the moon and become famous. He uses a trio of orphan girls as pawns to assist him in his grand scheme, however he finds their love is profoundly changing him for the better.
Hello Everyone
Welcome to my newest film blog of the summer, in today's reviewing I will be taking a break from hard hitting drama's and action thrillers, to review family comedy 'Despicable Me' which is a film that I have to say took me by surprise whilst watching. I went in with low expectations, thinking it was going to be a terrible film, however I was astonishingly surprised at how much I enjoyed it. The whole thing is just plain and simple silly, and out of this world, and bonkers, and very inventive.
The story takes place in a happy well- established suburban neighbourhood, surrounded by white picket fences with flowering rose bushes, but in the middle of the neighbourhood sits a bleak and depressing black house with a dead lawn.
Unbeknownst by the neighbours, hidden beneath this home is a vast secret hideout. Surrounded by a small army of minions, we discover that Gru (Steve Carell - Voice) has a cunning plan. One of which could be he's greatest and biggest heist in the history of the world. He plans to become known as "The Man who stole the moon." after a pyramid is stolen by a new younger, cockier villain looking to do Gru an injustice and humiliate him as a failure.
Gru however delights in all things wicked. Armed with his arsenal of shrink rays, freeze rays, and battle-ready vehicles for land and air, he vanquishes all who stand in his way. Until the day he encounters three little orphaned girls, who look at him and see something that no one else has ever seen: a potential Dad. The world's worst villain has just met his greatest challenge yet: three young girls named Margo, Edith and Agnes.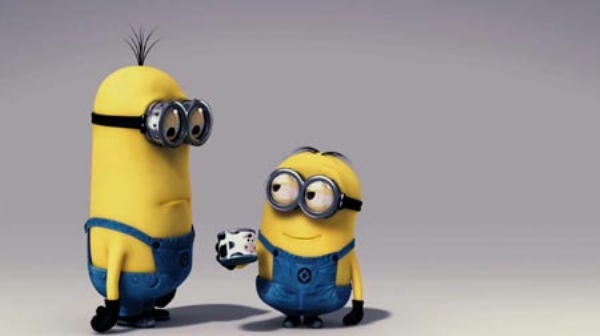 What's great about Despicable Me is that the production at Universal came up with a great idea, but it's a simple Idea, its nothing that no one else has come up with before, and that idea is to make a film or tell a story which is based all about the villain, forget hero's and princess, the audience have always been interested in the villain. To have the villain as the main character is great, what's good with Gru is, he is a man who started off as wanting to be bad, turn out good.
My thoughts when coming into this film, were not 'oh I'm going to love it, and it will be great' I was expecting it to be let's face it, 'a bit crap'. I thought it was very enjoyable, good watch, certainly family entertainment. It's just plain silly, but constructed into a manor where all the silliness fits into the story. Which in turn is good because it means all the silliness is meaningful.
The Little minions, are very funny. They are not like anything anyone had seen before, which is the genius of them. Now they have become an Icon, so you can tell that the minions are immensely popular. I think most of the laughs in the film, do come from them doing stupid things, and talking gibberish, and being strange and they take up a huge percentage of the humour, but that doesn't imply that the minions are stupid creatures, they are accomplished creatures quite capable of doing anything. They only do stupid things, for the purposes of our own entertainment.
I have to say, I really like the character of Gru, I think he's a good character. He's like the mad scientist like Frankenstein who works in his labs undisturbed. Who has a helper to assist him in carrying out his devious, mischievous, evil plans, which is great, already there is a concept to his character that the audience can relate to, they can invest in Gru. Steve Carell he to does an amazing job, The voice he portrays for Gru is so right, it suits his character really well. It overly makes Steve the character as he creates him on the screen.
Overall 'Despicable Me' is a great family movie, which is entertaining, enjoyable and really funny.
I will give it 7/10
NEXT TIME : I will review the continuation to Gru's story as I express my thoughts on 'Despicable Me 2'.
I will post that review on Sunday the 4th of August 2013.
Thank you for reading this review.