The Great Gatsby - Writer 'Nick Carraway' tells the story, of how he was once drawn to the past, and lifestyle of his millionaire neighbour. who to most people is the mysterious 'Mr Gatsby'.
Hello everyone, welcome to the next instalment of my film reviews. which is Baz Lurhmann's newest film on the market; starring Leonardo DiCaprio, Tobey McGuire and Carey Mulligan in the leading roles. 'The Great Gatsby'.
SPOILER ALERT: I will be revealing a few spoilers, as I talk about the film. and I always respect the people who are not a fan of spoilers privacy, and recommend that those of you who don't want 'Gatsby' to be spoiled before you see it, to go off and see the film before reading this blog.
The film came out in America on the 10th of May 2013, and was brought out in the UK on the 16th of May 2013.
Baz Lurhmann works his magic on 'The Great Gatsby' he directed it and also adapted the book for screenplay. Baz Lurhmann of course is best known for work he's done previously on 'Moulin Rouge' and 'Romeo and Juliet', so he's used to telling hard hitting love stories with a passion. there's always a meaning behind what he does, so he is a great storyteller.
I will start off this review by saying, the costumes and the music are flawless, no doubt about that. Lurhmann convinces the audience, that they are, where they are. 1922. he communicates this through make up, hair, accessories, dresses, suits, colour and perseverance in detail in the settings. the choice of locations were fantastic. which seems fitting because this film was filmed back in 2011 in Australia.
The Music was current to the 1920's but also had an upbeat hit to it so there was some identification of the music we have today and that was true to the setting and assisted in telling the story brilliantly. so I really liked the Music and the soundtrack, I thought they were both amazing.
This Film is an adaptation of F. Scott Fitzgerald's Long Island-set novel, where Midwesterner Nick Carraway (Tobey McGuire) is lured into the lavish world of his neighbour, Jay Gatsby (Leonardo DiCaprio). A mysterious man who is a billionaire who runs elaborate and eccentric parties on weekends to attract the attention of a young woman he has loved for five years, and it soon enough, that Carraway sees through the cracks of Gatsby's life. where obsession, madness, and tragedy await.
The basic outline of the story is of two people, boy meets girl, who meet and fall deeply in love with each other and are separated apart due to some untimed happenstance, the girl is departed from her lover when she is stuck in the marriage of another man, and has no confidence to break out of it. when she is reunited with her lover she experiences that electrifying love she once had with him again, and gets the confidence to tell her husband she wants to leave him to be with the one she has always loved, but tragedy strikes when this happens and Gatsby suffers the consequences, those consequences of course are loosing the girl he always loved again.
The story is told through Tobey McGuire's character, those of you may know Tobey McGuire from 'The Spider man Trilogy' where he played 'Peter Parker'. I liked Tobey McGuire's performance, I didn't think he did a bad job. but I can't help but think another actor could have done a better job. if you take someone like 'James Franco' for example, he would of been great in the role of Carraway. However with that being said I can't discredit Tobey McGuire for a second, because to say his performance wasn't confident would be untrue. when is character was happy, he was happy. when his character was angry, he showed it. so he did very well in communicating the emotions needed, as his character was very much involved in the film and in the last aspects of Gatsby's life.
I thought that Leonardo DiCaprio could of been better; again he wasn't so bad, but I can pick out several performances he's done in the past which are so much better : 'Django Unchained' and 'Titanic' are two examples. Having said that like Leonardo DiCaprio a lot he was great at communicating emotions : facial expressions, his Body language, his posture, his frame of status (sometimes it would be 10 sometimes it would be 6) so I had clear identification with him, thought he was very bold in his performance and did everything current.
To me the best performance goes to Carey Mulligan. she not only is a pretty face, but her character of Daisy Buchanan is quite a complicated character to come by because she's a woman of mixed emotions, and very few good actress can portray complex feeling in their performances. and when they do seize the challenge and rise to it, you believe in their that character, and you carry on believing until the end of the film, so to me she wasn't just 'Carey Mulligan' in the film. she was 'Daisy Buchanan'. A girl of mixed emotion who loves the thrill of adventure, but then again is a fragile young woman, who just wants to settle down and be protected. but then again what makes her character complex is when you struggle to understand how she feels, when she is feeling adventurous and when she is feeling stable.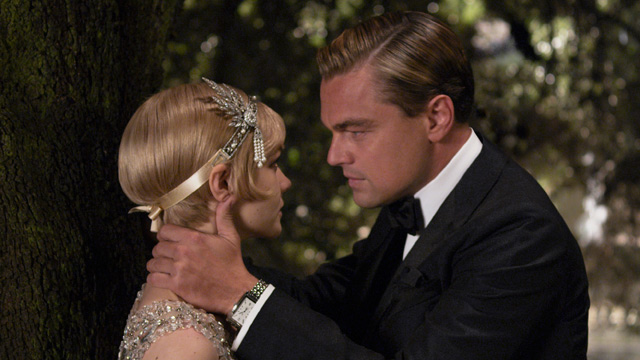 Now the next thing, I have to talk about is the ending, and I can't talk about the ending without revealing the biggest spoiler of the film. It's the ending that raps everything up, and makes the viewer understand what happened earlier in the film. It took me a while to understand the ending, and I wasn't too sure of what to think of it having seen it.
Now I've had the chance to examine the ending with an open mind, and actually it makes the film, make sense. Gatsby is killed by some misunderstanding and he is the one who suffers the consequences at the end of the film. after he dies no one could care less and no one except Tobey McGuire's character attends the funeral. it is then you understand his disgust and you feel his anger at the start of the film, and all the loose ends are tied up.
This film can also be experienced in 3D, now having seen this film in 3D I have had an observant point of view on it. Is this film worth seeing in 3D? I'm going to be honest and say no. the effects don't work very well, the film itself doesn't work well, as much as I love seeing films in 3D, there isn't much of an edge with 'Gatsby' the only 3D effects 'Gatsby' has to offer is the opening and closing title sequence and that's all. so the effects in 3D are very disappointing.
In a nutshell, I liked 'The Great Gatsby' but I didn't love it.
and it is for that reason, I'm going to give it a 6/10.
1 gold star to Carey Mulligan
1 Platinum star to Baz Lurhamann
Thank You for reading this review. I hope you go on an watch the film, because it is very good.
My next review will be 'Les Miserables - The Musical Picture' starring Hugh Jackman and Anne Hathaway. directed by Tom Hooper, and I will post that review on Monday the 20th of May 2013.