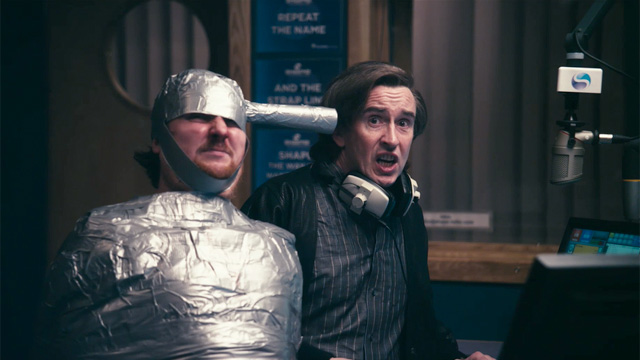 Hello Film Lovers.
Welcome to my next Dr Film review. Today I shall review the Alan Partridge movie 'Alpha Papa'. The film of summer. One I took great pleasure into going and seeing at the cinema. Because I love Alan Partridge, I think Steve Coogen plays the character, brilliantly. After all there is only one Partridge.
So what's to say about 'Alpha Papa' that hasn't been said by most people. Some people like it, Some people dislike it. It's to be expected with any film, however 'Alpha Papa' is without doubt, the film of the summer. Now I thought after having seen 'The World's End', that that was going to be the film of the summer, and to be fair it was the film to beat for me, I went into 'Alpha Papa' with an open mind, reassuring myself that if it sucks, I still got the TV show "I'm Alan Partridge" - which is hilariously funny.
I'll be honest, I loved it. Plain and simply loved it. It actually surprised me how good it was. It was fresh, it was original, it was out there, it ticked all the boxes for me.
You've got Alan Partridge, doing what he does best. He hasn't changed a bit. He's still the same silly man, that we've come to know and love over the years.
Alot of change has happened at Northfolk Digital, there are new owners, there's been a re-branding, both of which are not making the DJ's feel comfortable. So much so, that Alan's fellow friend and college Pat Farrell, holds some of the staff hostage after he's sacked from his job. Unfortunately shall we say, it is Alan who is chosen to help the Police, and speak to Pat directly.
Here's a clip from 'Alpha Papa' which should give you more of an incite into the film.
What's great about this feature film is the fact that, It's still original. The production haven't nessacarly messed anything up. Like The Inbetweeners movie, it's just a long episode of Alan Partridge, in which we can all reminisce in Alan's character, and remind ourselves of how funny he actually is. Which is the genius of his character, and probably one of reason's why the character is still going strong today.
The pace of Alpha Papa, is great. I just remember sitting in the cinema and watching it with my friends, and thinking "gosh, that went really quickly". I actually could not believe, I just sat through approximately an hour and half long film - very quick, no problems.
With this of course being a film, the limitations are wider. The plot is bigger, the buggest is bigger, but the key elements remain. And that is what is so brilliant about it, It keeps Partridge fans such as myself happy. The fact that we can go out and have a laugh, and above all enjoy ourselves.
The script is very well written. Take the car scene for instance shown above, you've got classic Alan doing his thing and the writers coagulating the scene together, to make it entertaining for us the viewers.
Steve Coogen, as I said he was superb. He brings Alan alive, and performs and communicates the desperation that this character endeavours, he makes him so beautifully awkward - which is funny. Overall it was just brilliant.
The Plot, I didn't mind. It could of been better, but the less said about the potential of 'Alpha Papa' the better. The Hostage storyline, I thought worked well, it was enough to drive the film and deliver to the best of its capacity.
Scores on the bord; It has to be a 9/10.
It works.
Thank you for reading this review.
NEXT TIME : I will review 'Pain and Gain'. I will post that review on Sunday the 15th of September 2013.